Create a project
New projects are created as drafts and can be found under your profile page.
https://modrinth.com/mod/
Project moderation
A moderation message is optional, but it can be used to communicate problems with a project's team members. The body is also optional and supports markdown formatting!
Message title
Message body
GNU Lesser General Public License v3.0 only
External resources
---
---
Project members
---
Technical information
HyCord
HyCord is a mod to improve integration with Hypixel and Discord.
Features
Very nice Discord Rich Presence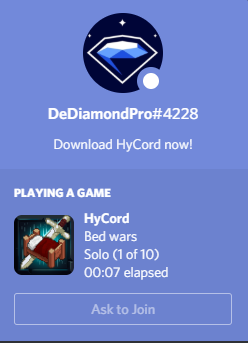 Ask to join button on profile
Automatically do /friend list when you join Hypixel
Nickname system: name your friends whatever you want in whatever color!
Beta only:
customizable rich presence
public and private voice chats
notifications when a discord friend comes online