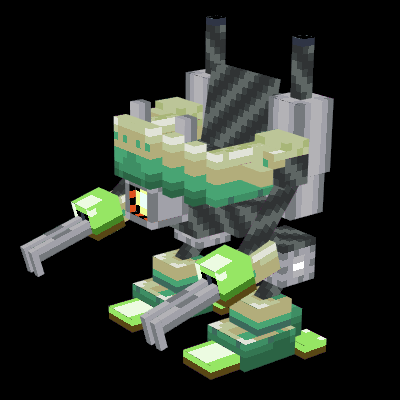 Magitek Mechs
Craft and pilot FF6-style Magitek Armor
---
902
download

s
21
follower

s
---
External resources
---
Featured versions
---
Project members
---
Technical information
Magitek Mechs (1.0.11)

=============
Magic-infused mechs based on Final Fantasy 6's Magitek Armor.
-Included-
Magitek Armor ( Powered by burnable fuel. )
Tunnel Armor! Rapid digging of tunnels.
Proto Armor ( Powered by electricity if TechReborn is installed. Free-energy otherwise. )
-Install (Fabric)-
Fabric API and Gecko Lib jars must be placed alongside this mod. TechReborn is optional. Here are latest known working versions:
(1.18.2) (Mod 1.0.12)
(1.17.1) (Mod 1.0.10)
(1.16.5) (Mod 1.0.4)
-Install (Forge)-
(1.18.2) (Mod 1.0.11)
(1.16.5) (Mod 1.0.11)

-Using-
Craft armors with these recipes:
You will also need to craft a magicite or find one in random treasure chests.
Before they can operate, they must be fueled and have magicite attached.
Open the cabinets with shift and right-click.
The slot on the far right is for the beam. Use a blaze rod for a fire beam or a snow ball for an ice beam.

After that, right-click to ride. Press 'V' to use the beams or drill.
-Ongoing issues-
I'm still figuring out why the beam will occasionally cause a nearby player to crash.
If its more of a problem than its worth, you can turn it off with "/gamerule beamDamage false"
"/gamerule beamFire" also exists if you want to disable fire starting.
-License & Sharing-
The code is available to reuse/modify under the MIT License.
You can use this in mod packs if you want. (Though keep in mind this is partly a fan work)